It's hard to believe the holiday season is already upon us! Here at Winterberry, holiday decorating is in full swing! We are busy preparing and creating many different holiday planters and other holiday décor for our Color Program clients. We often get asked how to design a holiday planter, so I thought I would share a few tips and tricks to help you create your own.
There are a few main elements that are typically seen in holiday planters. A mix of winter greens, tall decorative branches, and other holiday décor like pinecones, berries, and even ornament bulbs can all be accounted for. Whenever I design a holiday planter, I usually first begin by selecting the type of greens. The greens serve as the foundation for your planter. You can add a lot of interest to the design by mixing different types of greens together in the same planter. Keep this in mind when designing instead of using just one type of green. Balsam tips, fraser tips and white pine tips are some of the staples that I use frequently. Some of my other favorites are more speciality greens, which include incense cedar, juniper with berries, boxwood, and magnolia. These specialty greens are typically used as accent pieces amongst the staple greens. Simply stuff the greens in the soil of the planter once they have been selected. Adding sand to the soil can also help keep the greens in place. If you do decide to add some sand, make sure to clean out the planters in the spring and start with fresh soil. Your plants will otherwise not be very happy in sandy soil!
The addition of tall decorative branches is the next step once your greens are in place. You may want to add the branches in the center of the planter or towards the back of the planter, depending on where your planters are placed. You will want to place the branches toward the back of the planter to allow enough room for the other décor if you will be placing your planter by your front door, or up against a wall or other structure. However, you should place the branches in the center if your planter will be in an area where it is seen from all sides. This way you can add other décor around the entire planter. Try to stick with an odd number of branches, as it is more visually appealing. Depending on the size of the planter, you may want to use 3, 5 or even 9 branches if it is a larger planter. Mixing tall and short branches also creates a more dramatic look. White birch branches and red twig dogwood branches are some of my favorite to use in my holiday planters. Birch poles, which seem to currently be a popular trend, also add a little more elegance to a traditional planter.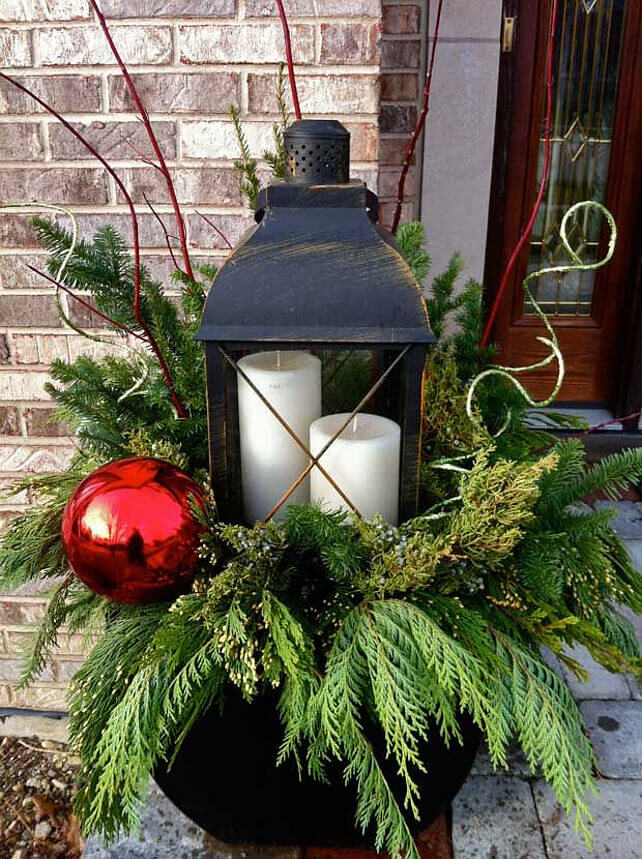 Now that your branches are in place, it's time to add some other décor!   This part is really dependent upon what colors and décor style you like. I like to use more natural wintery items in my planters like pinecones, berries and lotus pods. I also like to add a little sparkle once these items are in. You can add ornament bulbs or other decorative glitter picks to really give your planter a festive appearance. Don't forget to use some floral wire to wire all décor items and picks in place.
Finally, once all of your décor is in place, take a step back to look over your complete holiday planter. Now is a great time to make any final adjustments or touches to your greens or décor. With those final touches, you now have a perfectly festive holiday planter!