Aeration and over-seeding season is fast approaching and we have decided to give each and every customer an estimate in advance.  The cooler temperatures and abundant water kills weeds and puts grass in control. Maximize your lawns potential or rejuvenate it with our aerating/over-seeding packages.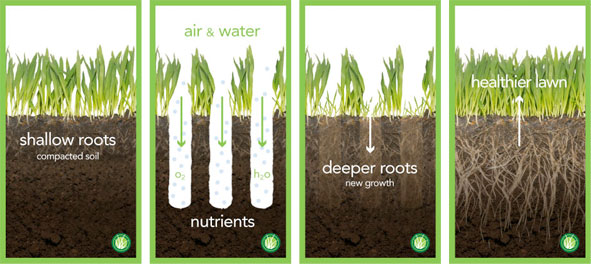 Performing annual core aerations increases turf health by allowing precious nutrients like nitrogen and water to better penetrate the soil. This stimulates a deeper root development to help get the plants through the stresses of summer.
If your lawn is thin or has weathered the effects of one (or many) tough growing seasons, rejuvenate it. Our slice seeding and over-seeding packages introduce fresh cultivars to your yard to immediately thicken and improve turf health. By letting us customize the different grass types for the micro-environment of your lawn, we can unlock its growing potential for years to come.
Remember Connecticut lawns are naturally acidic, so if you aren't an Organiscapes Premium Lawn Care customer ask us about our pH adjustment service. Low pH locks up the soil nutrients your grass needs to grow. So if you think you need lime, you probably do.
Contact us today to get started!